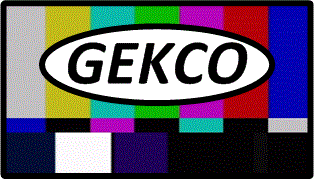 Model VG10 Multi-Functional
Video/Audio Test Generator

The VG10 is a low cost Television Test Signal Generator well suited for maintenance and alignment of video equipment in most television, cable or video production environments. This design takes advantage of large scale integration, which provides you with a low cost, high quality video generator, and passes the savings on to you.
The unit is modular with a variety of configuration options so you can pick the functionality you need. You can even assemble the unit yourself for additional savings. The configuration options range from the basic unit, which provides color black, to the enhanced unit with many video patterns, character/message displays, and audio tone output.
Common Features

These features are common to all configurations

9-bit digital signal processing video generation
Simultaneous Composite and Y/C (S-Video) outputs
Standard BNC and 4 Pin Mini Din S-Video Connectors
AC or DC power supply
Video standard, NTSC (RS170A) or PAL with setup

Configuration Options

Enhanced Test Patterns: Model MP10

Stair case 10 Step

The pattern selection is saved during power down. Custom patterns are available.

Character Identification Display: Model CH10 Option

On Screen Display with changeable 12 character text message
All Setup from the Front Panel. No dip switches to set.
Up to 12 character ID message
Toggle the Character ID on and off from the front panel.
Variable Text Position
Block Character Background or Outline Shadow
8 Character Colors including Gray

Audio Oscillator: Model AUD10 Option

1 KHz Test Tone Balanced Audio Output, 0dbm output level (adjustable), XLR connector

Enclosure - The VG 10 is housed in a compact, all metal, rugged mechanical package.

A19" rack mount option is also available, mounts three units in one 1.5" rack space. see rackistr.htm

Power Supply -The seperate AC to DC power transformer is included in any version.
---
VG10 REAR PANEL
---
Electrical Characteristics
Test Signal Generator

Luminance Accuracy: less than 5%
Hue Accuracy: less than 2.5 degrees
Color Saturation Accuracy: less than 2%
Differential Gain: less than 2% Differential Phase less than 2%
Burst Frequency Error: standard +/- 100 Hz

+/- 10 Hz with Optional Adjustable Temperature Compensated Crystal Oscillator (VG10-TCXO)

Video Outputs

Composite Video Connector (1) BNC, 1V p-p, into 75 ohm
S-Video Connector (1) 4-pin mini-DIN
Standards NTSC RS170A, or PAL-BGDHIN with setup

Audio Output

Connector: XLR male balanced
Frequency: 1 kHz
Amplitude: 0 to +8dB into 600 ohm or a high impedance load.

Power Source: AC Adapter 110 VAC to 9VDC. External 9-12VDC less than 300mA.
Environmental
Temperature: Operating 0C to +35C, Nonoperating -40C to +65C

Physical Characteristics: Dimensions: Width 5.4" Height 1.5" Depth 7.0" Weight lbs: Net 1.06, Shipping 3.31
---
---
Copyright © 1998, GEKCO