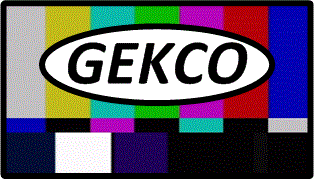 VIDEO DETECTOR/SWITCH
MODEL VDTR1
The VDTR1, Video Detector and Switch, will detect the loss of video on the A input and automatically switch to the B input. The video detector is based on digital signal processing of the A input sync signal. If the A input has excessive noise, missing or intermittent for over 100mS the switch will occur. Momentary losses for less than 100mS are ignored. While the B video is selected the A input must be solid for 100mS before the unit will switch back to the A input.
The automatic detection can be inhibited from the front panel and either input can be manually selected.
A status contact closure output is available for remote status from the rear panel with a quick disconnect connector. Both normally closed and normally open contacts are available. The normal state is the A input selected.
Up to 3 units can be rack mounted in a 1 Rack Unit space, 1.5 " high, using the optional rack mount assembly.
| | | | | | |
| --- | --- | --- | --- | --- | --- |
| Electrical | Characteristics | | Physical | Characteristics | |
| Signal | | | Dimensions | mm | in. |
| Video Input and Output Connectors | BNC | | Width | 106 | 4.17 |
| Impedance | 75 ohms | | Height | 39 | 1.52 |
| Bandwidth | 30 MHz | | Depth | 127 | 5.0 |
| Switch Delay | 100 mS | | | | |
| Status | Isolated Normally Open and Closed Relay contact closures. | | | | |
| Power | | | Weight | kg | lbs |
| 9-12 VDC | Wall Transformer Supply | | Net | 0.48 | 1.06 |
| | | | Shipping | 1.5 | 3.31 |
---
Copyright © 1999, GEKCO