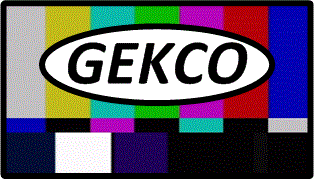 Model MVG10 Multi-Format
Video/Audio Test Generator

The MVG10 is a multiformat Video Test Signal Generator well suited for maintenance and alignment of video equipment in most television, cable. medical or video production environments.
Features

Multiple output formats
Simultaneous Composite and Y/C (S-Video), RGB and Sync outputs
9-bit digital signal processing video generation
Connectors: Standard BNC (composite video) and 4 Pin Mini Din (S-Video), computer standard 15 pin HD connector for RGB and Sync. Optional adapter cable from HD15 connector to BNC connector is available.
AC power supply
Video standard, NTSC (RS170A)

Dual channel 1 kHz audio tone, RCA phono connectors. Left channel constant tone, Right channel intermittent

18 Test Patterns:

Stair case 10 Step
Stair case 10 Step with scrolling horizontal bar which moves from the top of the screen to the bottom every four seconds

The pattern selection is saved during power down. Custom patterns are available.

Character Identification Display:

On Screen Display with changeable 12 character text message
All Setup from the Front Panel. No dip switches to set.
Up to 12 character ID message
Toggle the Character ID on and off from the front panel.
Variable Text Position
Block Character Background or Outline Shadow
8 Character Colors including Gray

Audio Oscillator:

Dual channel, Left and Right sources
1 KHz Test Tone Balanced Audio Output, 0dbm output level (adjustable), RCA connector
Left channel continous tone, Right channel tone is interupted for 100 mS every second for identification.

Enclosure - The MVG 10 is housed in a all metal, rugged mechanical package..
---
MVG10 REAR PANEL
---
Electrical Characteristics
Multifunction Test Signal Generator

Standard NTSC (RS170A)
Output Impedance 75 ohm

Composite and S-Video

Luminance Accuracy: less than 5%
Hue Accuracy: less than 2.5 degrees
Color Saturation Accuracy:: less than 2%
Differential Gain: less than 2% Differential Phase less than 2%
Burst Frequency Error: standard +/- 100 Hz
Composite Video Connector: (1) BNC, 1V p-p, into 75 ohm
S-Video Connector: (1) 4-pin mini-DIN

Red, Green, Blue and Sync Component Video

Accuracy less than 5% (adjustable gain)
Channel to Channel Match less than 5 %
100% amplitude: 700 mV p-p (adjustable)
Sync Amplitude: 1V p-p nominal
HD15 pin D connector: Standard computer pin assignments

Audio Output

Dual Ouput, continuous and intermittent tone
Connector: RCA female unbalanced
Frequency: 1 kHz
Amplitude: Internally adjustable from 0 to +8dB into 600 ohm or a high impedance load.

Power Source: External 90 - 130 VAC, 48 - 66 Hz, 15 W Typical
Environmental
Temperature: Operating 0C to +35C, Nonoperating -40C to +65C

Physical Characteristics: Dimensions: Width 7.29" Height 2.52" Depth 9.0" Weight lbs: Net 4, Shipping 6
---
---
Copyright © 2000, GEKCO Inc.